Submitted by
Noah
on Thu, 2014-02-20 10:58
Region:
The Lower River and Tidelands (CT)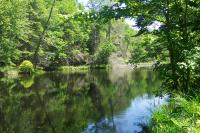 Description:
Hurd State Park is a scenic and varied state park nestled in a quiet section of the Connecticut River. It is an easy and scenic seven mile paddle from Middleton's Harbor Park. Paddlers seeking a longer (20 mile) paddle can launch from the Town of Glastonbury's Riverfron Park to be completed in 2014.
You'll pass through a section of the river called "The Straights," noted for steep and folded bedrock.
Once arriving at Hurd State Park, be sure to check-out the myriad of trails that traverse the lush woods in this 1,000 acre park.
The next day, take-out seven miles downstream Gillete Caste or carry on to the campsites on Seldon Neck. Reservations are required atleast two weeks in advance.